Did you know that the highest paid profession in America is professional speaking? Speakers can earn between $5,000 and $10,000 for a 20 minute keynote presentation.
It's the reason why great entrepreneurs know how to get up and share their message. They indirectly get "paid" by moving employees, partners and communities to engage with their business in a way that goes far beyond the financial upside.
Some of the best, like Mark Zuckerberg (Founder/CEO of Facebook), go even further and learn other languages, so they can share in a more authentic way.
If you can master – or at least be mediocre – at speaking, it will open up the world to you. I've been paid to fly around the world sharing stories of lessons learned with amazing entrepreneurial communities.
Exclusive Bonus: Download the free step by step guide (PDF) on how to create a 15 minute presentation.
What I've covered below is my approach to creating a great presentation in 15 minutes. Yes, that sounds ridiculous – but it's true. I can sit down with a piece of paper, write out the structure outlined below and insert the missing elements to be able to get up and speak for 20-60 minutes without skipping a beat and feeling confident in delivering the value to my audience.
It's taken me years of practice and training to get mediocre at best, but I felt my approach was something worth sharing as I often get asked to help others with their presentations. I would love nothing more than to see more entrepreneurs share their story and lessons learned with a global audience.
Overview of sections below:
Highlevel Outline: How I create my presentations following a system I've created and adapted over the years. It's a simple way to ensure you don't forget anything major and provides a framework to quickly create your next presentation.
Slide Creation: My approach to creating slides. I borrow a lot of the design sensibility from an old friend, Daniel Burka. 5 years ago, I watched him give a talk and I was so impressed with how visually stunning his slides were, but also in their simplicity.
Highlevel Outline
Here's a quick overview of the framework I use, inspired by T. Harv Eker, to give a talk:
Title of Talk
Opener
Edify
WIIFM
ETR
Teaching(s)
Closing
1. Title of Talk
Creating a catchy title can feel overwhelming, but there's a simple trick based on decades of research and it's super scientific. Just use magazine covers. Search online for a magazine in your industry and put the words, "Magazine Cover" after it. (ex: Forbes Magazine Cover). You'll see 100's of examples of article headlines designed to capture someones attention. Use them for inspiration and tweak for your own needs.
2. Opener
The best way to open is to state your name and the title of the talk. It's simple and gets things rolling. If you want to be fancy, you can do a bunch of other things here, it's your call.
Tell a Story: This is one of my favourite ways to open. If you have a funny story about the city, venue or organizers, tell it. Keep it short – but funny – and if possible, relevant to the topic.
Ask a Question: You've probably seen people do this. They ask, "How are you doing?" or "How many of you …?" – either approach is fine and it gets the audience interacting early in your talk to set the mood and to gain audience participation.
3. Edify
One of the perfect way to engage the audience is to thank them. Doing this will leave them feeling a sense of respect for you because you appreciated them. There are 2 groups you'll want to thank, and in this order:
Attendees: Thank them for coming, for their time and participation over the allotted time.
Organizers: Get the name of the organizers and a few major sponsors. Thank them and then ask everyone to give em' a big round of applause.
4. What's In It For Me? (WIIFM)
No one goes to an event for the speaker, they go for themselves. Tell them what they'll get out of your talk. This is referred to as "WIIFM," or "What's In It For Me?", asked from the attendees point of view. If you don't tell them, you may lose them.
5. Earn The Right (ETR)
Why are you on stage? Why should anyone listen to you? Be sure to share those reasons at the beginning of your talk or the audience will be sitting there wondering what makes you qualified to even be there. I NEVER assume anyone knows who I am, what I've accomplished or the reason I was asked to speak. Tell them.
Tell Your Own Bio: It's the reason I don't like having someone else read my bio before I get up.
Share Your Accomplishments: Inline with the topic of your talk, what have you accomplished? Brag a bit. Tell them.
Share Your "Why": Why are you on stage? What's your purpose in life? How is that coming along?
6. Teaching(s)
This is the meat of your talk. It can be as simple as a story, or a series of lessons learned. Regardless of how long you have to talk, each learning is a story and usually lasts about 10 minutes.
The optimum way to fill an hour talk is to break things up into 10 minute stories or 10 minute teachings. It makes approaching a big presentation so much more doable. If you follow the structure below with the opening, story and ending – then you can just toss out all the topic teachings (ie. topics) you want to cover up front.
For each teaching: decide on the best way to frame it, the story you feel demonstrates the lesson the best and how you want to end.
Here's the format I use to accomplish this:
Opening
This is usually the point you want to talk about – the lesson learned, trend or belief that you would like to teach. If you have any powerful statistics or examples to reinforce this, then lead with that. One of my favorite openings I've heard recently came from an HR startup at a pitch competition:
"People don't quit their companies. They quit their boss."
Story
An excellent way to teach something is by telling a story. I personally like to share stories about my experiences that help reinforce the topic.
There's been a lot written on the format of stories, but the key in my mind is this: The more vulnerable the story, the more universal the appeal.
Regardless of the topic, everyone likes a good story, so don't bore your audience with facts & figures, instead, weave that information into a relevant story. Remember, "Facts tell… Stories sell."
Ending
This is where many speakers mess up a great story. They don't bring the story to a resolution, or explain how the lesson they learned helped them achieve or avoid a similar fate in the future.
I used to be horrible at this. I would always forget to "end" my story. You quickly learn this by the types of questions you're asked after your talk. If you get the "What happened with the company afterwards?", or "Did you ever figure out a way to avoid that…", etc.. Then you'll know you didn't end or resolve the story properly. It only takes a few seconds, but it will help the audience stay engaged.
7. Closing
At the end of my talks, I always like to quickly go over the topics I covered, then end with either a "Call to Action" or a "Call to Purpose."
Call To Action: This is some type of action I would like the audience to take. Most of the time I give them a URL to download links so I can collect their email and build a relationship. It's also a great way to judge how well you did based on the % of the audience that were motivated to do so. The better your talk, the higher the conversion to email.
Call to Purpose: If the purpose of my talk was more inspirational than teaching, I'll end with a call to purpose. This is more of an "ask" to the audience to live their life with purpose. I've sometimes asked, "Will you make me a commitment to have no small plans?", or borrowed from my friend Clay, "I have no doubt you'll all be successful, but will you matter?"
Both questions are designed to summarize the essence of the talk and leave the audience with a question that will connect them through emotion to the topics covered. It's like planting a trigger to help connect with the audience.
TIP: The First 7 Minutes: The best way to reduce the stress you might be having for an upcoming talk is to practice and perfect the first 7 minutes. That's all you need.
If you've practiced the opening, all the other elements written above, and maybe the first topic, you'll be fine. Remember, you're human, you already know how to tell a story so the key is to remember how you begin and end. The middle will fill itself in.
Creating Your Slides
The best slides are no slides. If you're an amazing story teller then you should be able to get away with no slides. I'm not there, yet. So in lieu of that, I continuously reduce the amount of information on a slide as well as the total number of slides in my presentation.
Currently, I have the following slides for my talks:
Title of Talk
Earn The Right
Teaching #1
Closing
Title slide: This is the first slide which has a strong image with the title of my talk, my Twitter handle and the hashtag for the talk or event.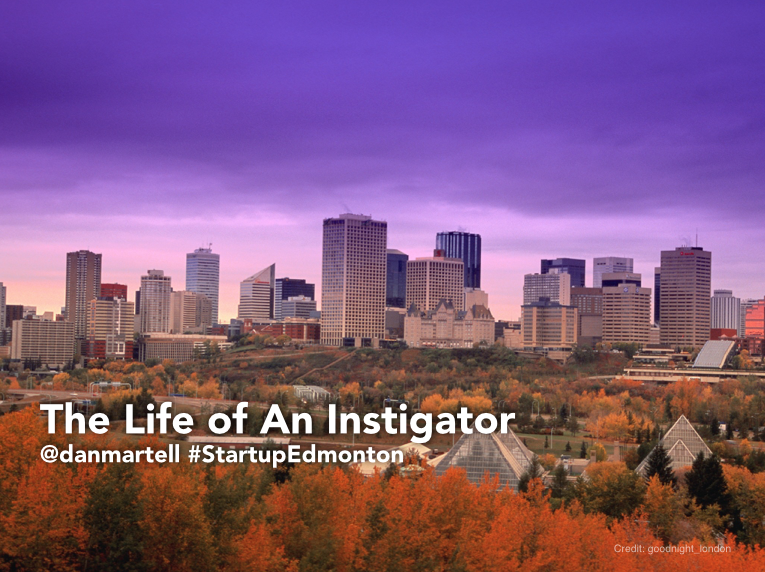 Earn The Right (Your Story): This is a slide with a picture that represents who I am and allows me to cover the Earn The Right (ETR) part of my talk.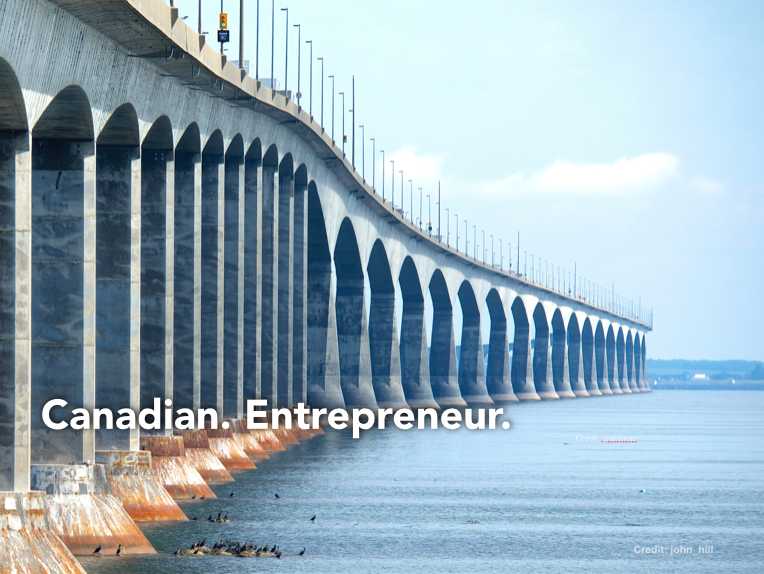 Teaching(s): This slide has the topic I want to cover, relevant image and that's it. I repeat this format for every 10 minute story I plan to share.
In the past, I would do 4 slides per teaching: teaching title, opener, story and closing. The format didn't change though, typically a big image with or without a word.
Closing: Last slide is my thank you slide + some kind of call to action, or call to purpose. It usually includes my Twitter handle, the hashtag for the event and maybe a URL if I want them to visit a website and take action. It's the slide I leave up when I'm doing Q&A with the audience.
—-
When you get on stage and you teach from the heart everyone will notice – and then it has nothing to do with structure – because at a human level, we all just want to connect.
Share your stories. Share your passions. Teach others what you've learned. You'll always get way more out of it than you put into it.
Have you ever been scared to give a talk? How did you overcome it? Was it as bad as you thought it would be? Leave a comment below as I'd love to learn more!